Engagement and responsibility have a high priority in our company philosophy. Ideally, business should be fun for both the customer and the entrepreneur. At the same time, responsibility towards our society and the environment must not be ignored. On the contrary – especially as an entrepreneur, environmentally friendly projects as well as regional and social projects should be supported.
A supporting network results from commitment, passion and promotion – many things are easier in a community.
With our heartfelt projects, we positively support our environment and achieve big changes with small steps – we live our company philosophy: we get committed with responsibility.
Tradition, sincerity, groundedness and partnership are values that we share with the "Eulen Ludwigshafen" and practise at Schreier Maschinen- und Apparatebau GmbH. As a family business from Friesenheim, regional bonds are particularly important to us – that' s why we have been a partner of the "Eulen" for years and we are proud to be able to support such a committed sports club.
The "Eulen Ludwigshafen" are more than just a handball club from Ludwigshafen; with their multifaceted commitment, both on a social and sporting level, they support responsible projects such as youth development or cancer aid with a huge amount of heart and soul. As entrepreneurs, we see it as our responsibility to support this association as a partner so that it can exist in the long term and thus continue to offer the society a meeting place for exchange, passion and engagement. The approachability of the entire Eulen team is also unique – the warmth and openness creates "touchable handball".
On 1 October 2017, Schreier Maschinen- und Apparatebau GmbH joined the network "Entrepreneurs for Entrepreneurs". As a member of the network, we support women and men in poor countries to build an economic existence on their own. This is the key to overcoming their poverty and creating a better future for themselves, their families and people around them.
One third of all people worldwide live in poverty. Oxfam, one of the most influential international development organisations, finds practical and innovative ways for change: together with local partner organisations and the locals, who often need just a little initial help to improve their lives.
The Oxfam partnership is a heart project because entrepreneurship has the power to overcome poverty in a sustainable way. With their own small businesses, people can lift themselves out of poverty and live a life of independence and dignity. From the money they earn this way, they can feed their families, send their children to school, pay for medicine and medical care. They can reinvest surpluses in their businesses and create new jobs to give even more people the chance of a better future. We support all this as a member of "Entrepreneurs for Entrepreneurs" to make our contribution to a fairer and better world.
For more information on current Oxfam projects, visit https://www.oxfam.de/mitmachen/unternehmernetzwerk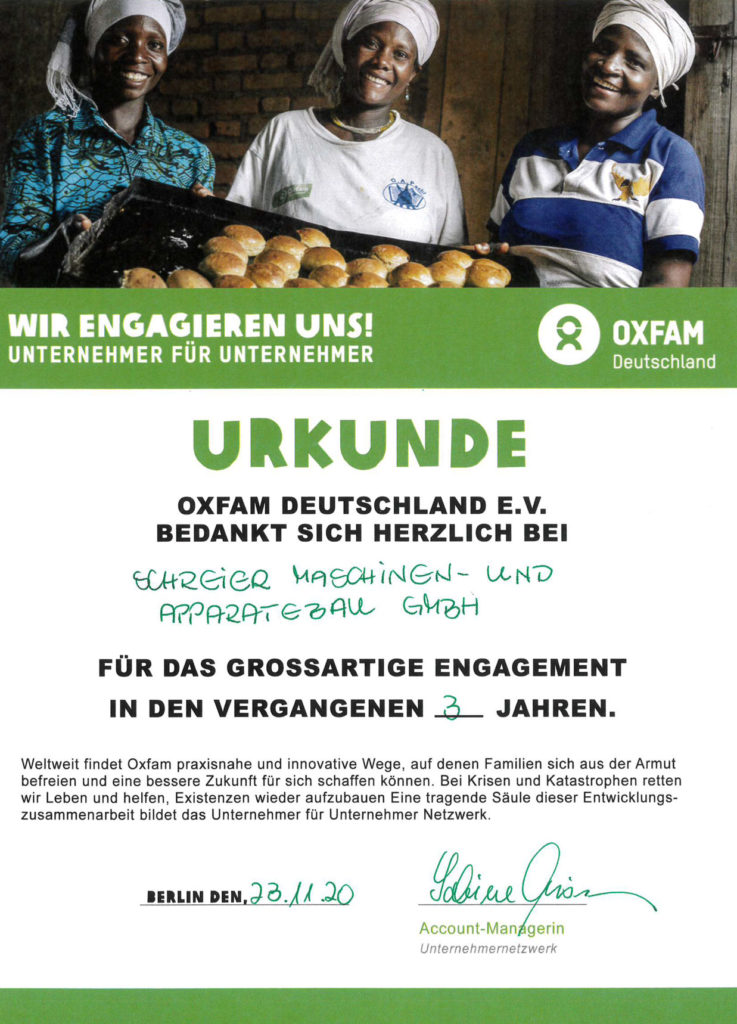 Introducing our animal godchild – a donkey!
Not only humans, but also animals need supporters to enjoy a healthy and happy existence. In the last 2 years, the "Wildpark Rheingönheim" had to stay closed for many months due to the pandemic. The income from visitors was missing, but the needs of the animals remained. What could be more natural than taking on a sponsorship for a resident of the animal park and thereby ensuring its food supply?
It was not by chance that a donkey was chosen. We find many of the characteristics of this odd-toed ungulate in ourselves and these shape our contacts in business and private life.
The following characteristics are briefly described, for example, by the World Society for the Protection of Animals: The donkey is a loyal partner with great nobility and special loyalty. Furthermore, he is fearless and loves social gatherings. He is clever and the apparent hesitation is a weighing of the situation – perfect match!
Source: https://welttierschutz.org/der-esel-das-unterschaetzte-multitalent/
We support the Elias Hospice in Ludwigshafen because this facility can be the most important station in the last stage of life for people with serious, incurable illnesses: the palliative care. According to the motto "Caring for all senses", the hospice offers space for the last journey, with the aim of the greatest possible quality of life, dignity and participation for the patients.
The outpatient and inpatient care provided by qualified paliative staff, whose profession is at the same time a vocation, tailors their services to the needs of the patient and their relatives and improves the quality of life of the patients to be accompanied through professional and individual support.
Source: hospiz-elias.de
Our tree godchild – a thick and plump sweet cherry tree
Back in November 2020, a meadow orchard was planted in the grounds of the Heinrich Pesch House, which not only blossomed beautifully in 2021, but also bore its first fruits. All of them are historic fruit varieties that have almost been forgotten. A variety of shrubs and roses were also planted and a wildflower meadow was sown. In order that the animal inhabitants do not only have to watch, the whole project has been equipped with a large insect hotel and some nesting boxes. A wonderful idea that we were very happy to support, initiated by the Friends and Sponsors Association. The orchard meadow is freely accessible and all the planted trees and shrubs are displayed on a large information board. A visit is definitely worth it!